Greek Keyline Design Classic
NOVEMBER 24, 2011
A few classic motifs – timeless and applicable to almost every context.
You are in NGS Brandsigns 
scan this page
New shops, new brands are launching across UK and many are now returning to hand written graphic signs for richness, style and character.
There is nothing quite like a beautiful hand painted sign…

Above:   Artwork designed by Nick Garrett Signs  for Ted Baker
For a long time now digital media has dominated the shop sign industry. Here are some of my recent works setting style and trend… by hand. Hope you like.
For all your hand rendered sign enquiries talk to NGS
Nick or Pamela:  

07951509238

  
Recent client list includes:  Dishoom, 24-7 Tech, Miami Ink, Foote's Music Store, Allied Breweries, Issey Miyake, Designers Guild, Tate Modern, Sylvanian Families, Nina Campbell, Damien Hirst, Ted Baker, Stewart Parvin, All Saints, Strutt and Parker, POD Good Food.
NGS are Traditional writers with a completely modern ethos… it's what makes your artwork special.

Design Communication
I always offer to assist the creative process.  In this project the artwork arrived in PDF layout form and I set about applying useful elements in order to flesh up the look.
TB designer Barry Wylie was great to work with offering loads of images and ideas… but it was important for me to let him know that he could fwd me any amount of info he wanted – that in no event would this become a nuisance.  The opposite is true.  Quality input breeds success.
Flagging up good practices with designers who share great communication skills allows the project to develop more fully.
It also feeds the whole schedule with shared ethos, depth and understanding.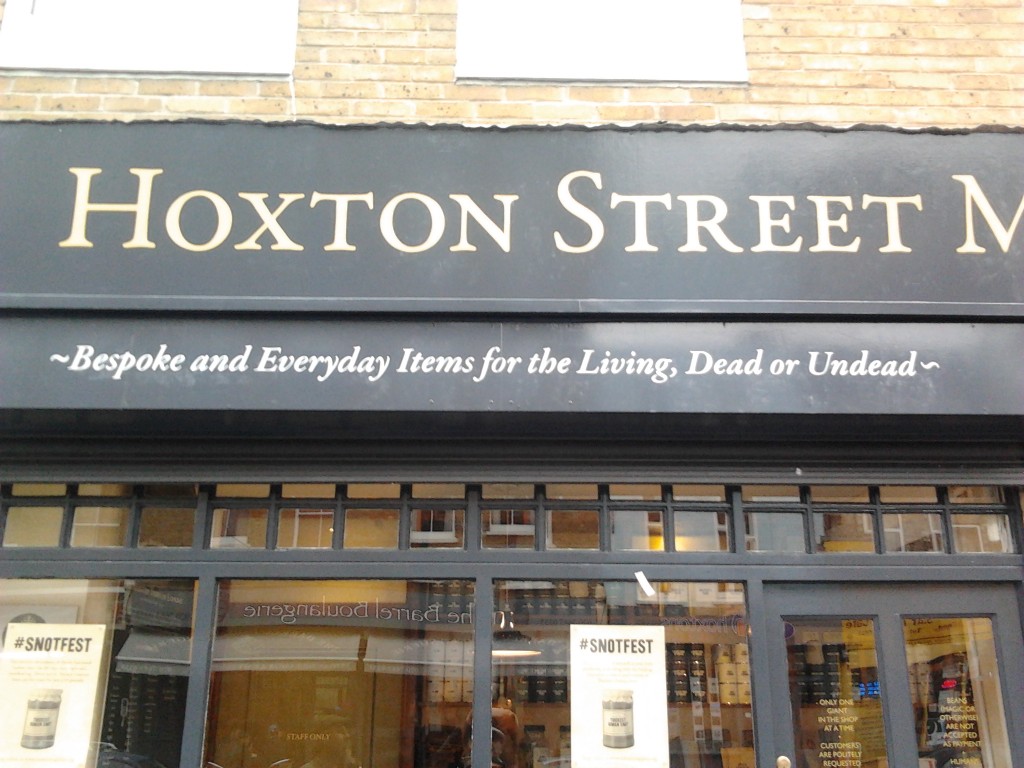 Communication is crucial – I really work hard at building good communication skills.  In the past I studied counselling in order to amplify my communication ability.  It paid dividends.
In the design process it is never the case of expecting to get the look right first time.  A concept has to travel around the team – qualified people with a diverse range of views.
When ideas come back from first submission I can't wait to wade it and make refinements.
Criticism is brilliant!  It aims always to take the best in the concept and better it.
The objective of embarking on brand or product design is to create something stunning that works.
For that running ideas round a team is always the best option.
It may be that we will work together in the future – I hope this short article gives you an insight into my constant striving for good design practice and underscores your own belief in communication based design methodology.
Nick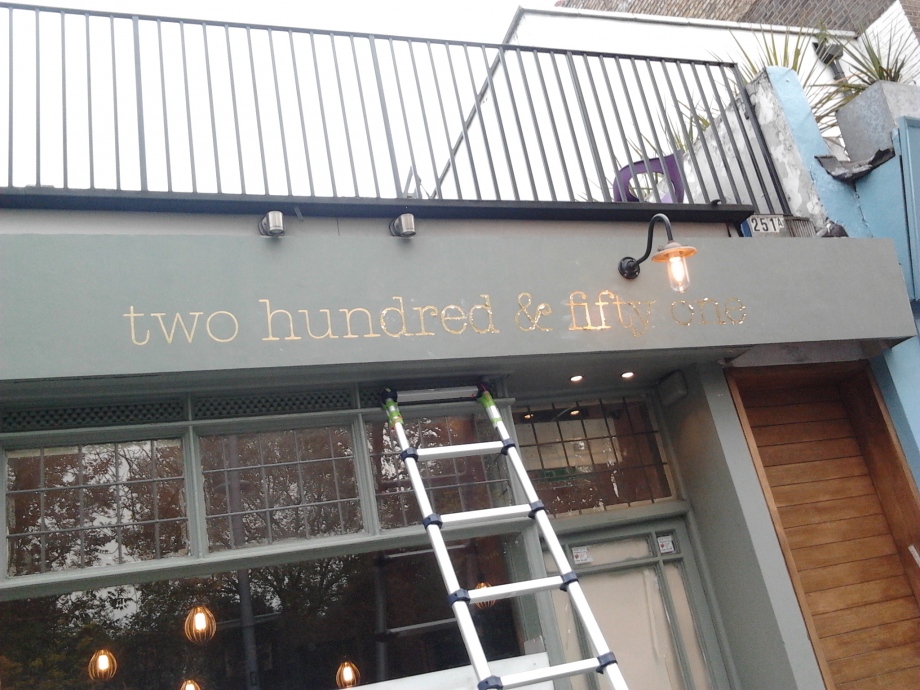 Vamping a great little treasure on the Kings Road… 251
We love our restaurant… and sharing it is what it is all about… work in progress making it special

251
When I came across this little hub I was immediately taken by its atmosphere… calm, friendly and great dining ethos.  I was asked to add some visual magic and right now I am working on a range of small detailings that add something unique and charming.
For example adding colour to the dining chairs needed to be based on consideration – finding a cute visual appeal with a twist and surprise.  Something unexpected and individual… the distribution of tone and dusty hue combinations was refined in order to break the mould of the white distress icon and find instead a richer colour combo.
Bringing together a controlled richness is incredibly important in the restaurant interior… controlled because the target audience, richness combining the visual senses in tandem with the aromas, jazz and tastes.
The coffee in 251 is fantastic!… everything must enrich that magic or enliven it…
Hang out at 251 – relax and enjoy…
Nick Garrett


talk to us
Nick or Pamela NGS:   

07951509238
Modern Brand Signwriting: A bit about the B2B/C power of my fresh modern sign writing 
S

ign writing has always been a highly creative process and while today it allows me to offer a generally a lower cost option than digital print,  I take pride in the new modern graphic feel entering my practice – young designers are seeing signwriting as the perfect medium to express their distinctive London retro style.
NGS brand sign writing is now truly modern, truly cool… and truly profitable
The power of my top quality hand painted or gilded sign craftsmanship lies in the fact that it is simply brimming with character… it will 
talk
your talk
and is as a signature of quality for your business front end.  
It is most certainly a beautiful way of communicating because it is completely bespoke.
A hand painted sign from me is energised: it will be a very cool looking high resolution product, lasting 15 years, speaking volumes, while genuinely building your brand ID (and client list), day in, day out..
If you have the opportunity to say who you are, what you do, choose us as you hand painted signwriting professionals, because NGS strive to do the job better than any.
It's a fully editable sign design made exactly to your spec and budget requirements.
Above:  Nick signwriting in Tate Modern recently. Below:  55 Great Eastern Street, new POD store opening – signs NGS.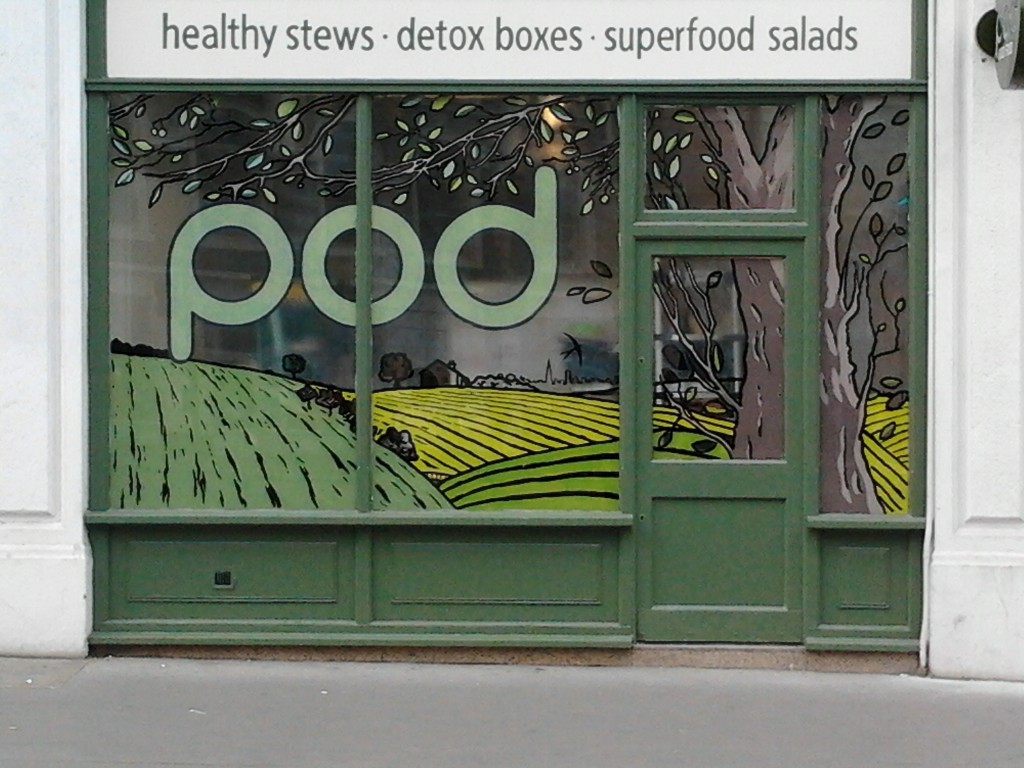 Above: the new POD mural for Mansion House outlet… taking off nicely and turning over great, delish fast slowfood!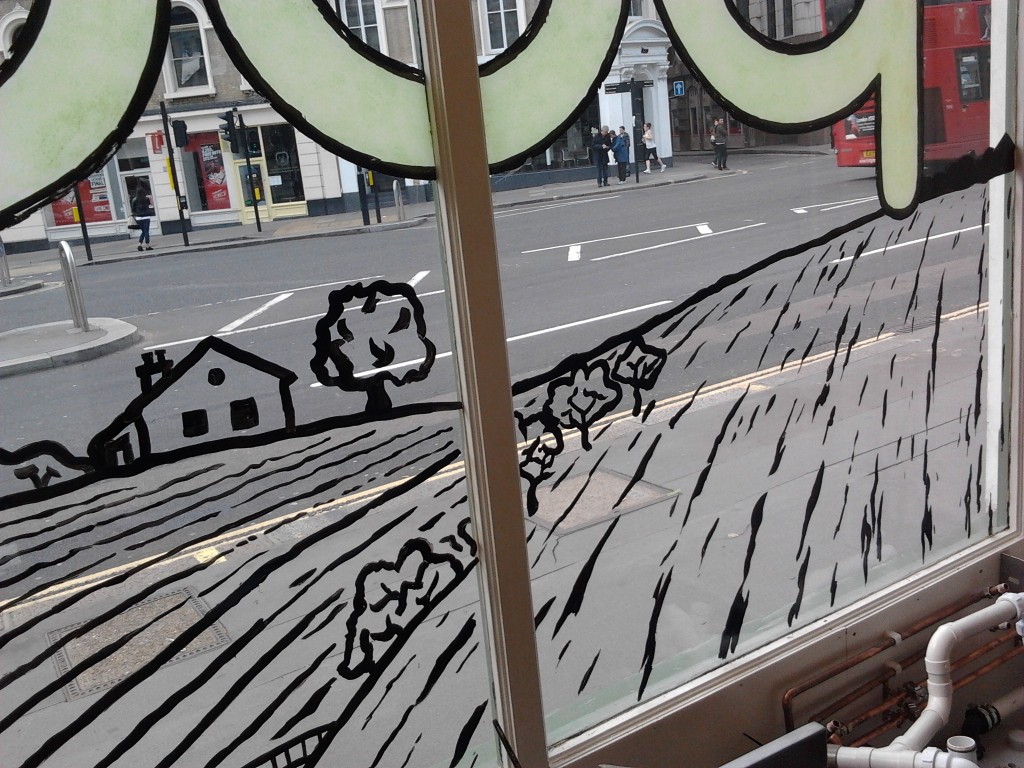 The NGS team give you great value and service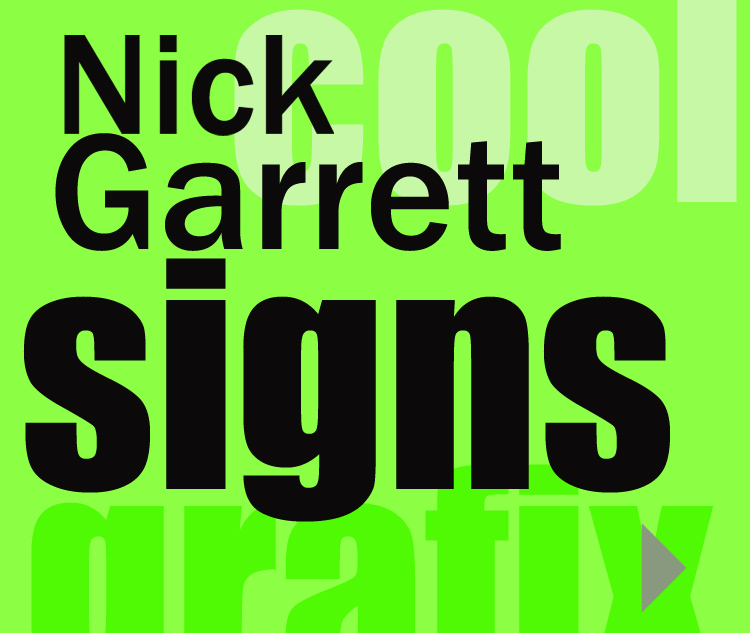 Typeface Design – making ideas work
By London sign writer Nick Garrett
Typeface design is something top signwriters pull up every stroke of the day.  Each curve struck by custom made chisel edged signwriters brush, follows a memorised pattern or cutting in profile.  For example Helvetica has a completely different DNA to Franklin Gothic, Univers and Gill sans.  An experienced writer holds this programmed information and differentiation like a digital plotter.
Recently I was asked by a leading brand to write a shop fascia using a font with a loose Victorian poster hand... with a modern twist!  Whattha!!!
I knew exactly what was needed… but while I was writing this wibbly font (or peotica sans as I termed it), my subconscious was going nuts!  Protesting on my left hemisphere while my right forged this subtle but beautifully bad logo!
Below:  the wibbly font which drove me nuts writing!  Look at the rough 'S'  …looks great ensemble!
But adding flair and eccentricity is what is required today as clients seek out the hottest brand ID… the rules are changing and rules are often out of the window.
Below:  recent brand logos, buttons and banners by Nick Garrett, NGS
Classical Logo design is still a crucial skill for me as it focuses a host of useful typographic and creative skills: technical thinking and creativity combined.
Inspiration breeds success if held to client brief.
It is the difference between being a traditional sign-writer and a top notch sign pro.
Nick Garrett
NGS
Above:  Gill sans with some optional extras …
The Magic of Vintage Block Lettering:  Sans Serifs
Gill Sans is a tremendous English font based entirely on the classical structure of Roman serif.  Ingenious sans serif borrowing from rich Latin origins.
We are a clever lot… those Romans….
Blockies to look out for:
Franklin Gothic Bold
Gills Sans
Univers
Swiss
Hope you like your hatchling NGS sign concept… think about it and get in touch
NGS
Related articles
London sign writer Nick Garrett
I've been looking around a host of websites recently taking a look at what other writers have been up to and it's interesting to see the variation in work.
One this struck me was how many writers employ an approach the contrasts the current trend today.
Creative Signwriting has grow out of the brewery industry by and large and this DNA seems to permeate most styles of writing from the traditional sign companies, despite the use of digital technology.
Enough said today signwriting isn't just about the artisan it's about the brand and how it becomes enriched in paint… via the brush.
I say via the brush because this is where the practice is splitting off.
A number of writers are claiming to use hand painting when in fact they are using sign stencils… a vinyl mask that is laid pressed and then filled with enamel.  This creates the illusion of writing yet is really little better than applied vinyl because the end result has no hand made painted cutting.
 

Left:  Peeling off Vinyl stencil
This is OK if you are looking for a discount solution – hey hold on… make sure the writer offers you a discount on vinyl masking because it is a quick fix solution and should cost 50% of the traditional painted rata.
By hand I mean applying with the brush in the traditional way… no shortcuts or gimics.

Above:  Writing in the Modern context – by hand
When I create a sign it is via the skill and execution of 32 years… in a modern way.  You end up with artistry, and accuracy in Corp ID.
The vinyl stencil is mechanical and doesn't compare… but that's just my opinion!
Nick Garrett NGS
We'll help you tick all the boxes including the big 'success' one.
Use us for your crucial brand SignID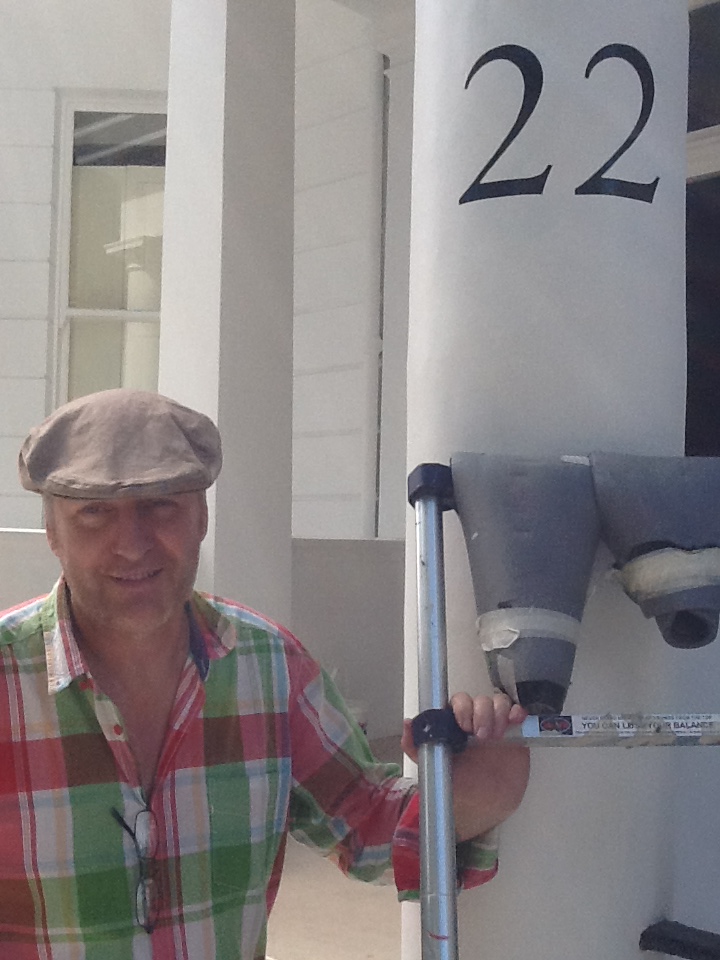 Signs that breed success for you
Your sign is an investment that will pay for itself in the first weeks of it's life.  It will immediately turn heads and attract valuable new business. 
Our renowned, trusted, hand painted signs, hand painted murals and traditional sign writing service means you don't need to run around between different suppliers chasing endless quotes  -  because we'll do it exactly for your budget and save you money – you'll directly benefit from our 3 decades of experience which will factor in:
       professionalism
       smoothe project flow
       perfect execution 
       best materials handling
       keen prices
       on time delivery
        …all saving you sweat, stress and money.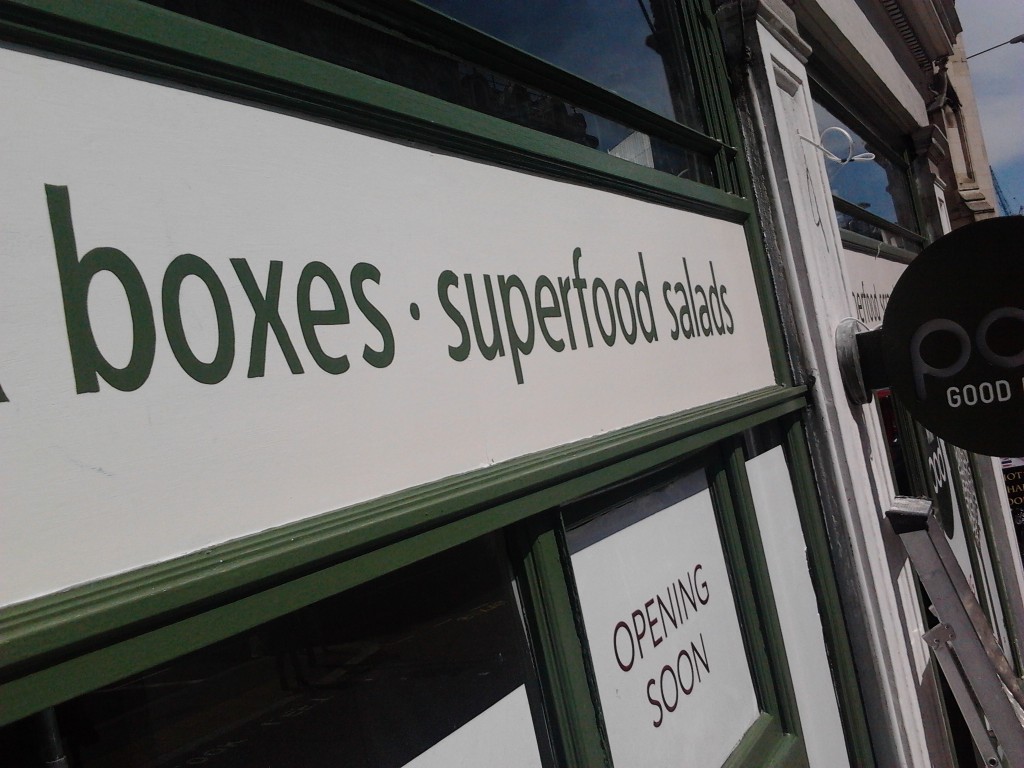 London sign writer Nick Garrett
         For all your sign enquiries talk to us
         

07951509238    
Have confidence in a great service
We'll always go the extra mile for you… because it pays for us to give you that extra and build long term confidence and client trust.
What's so important is having an absolutely reliable creative team at your disposal and coming from a product development industry I know how to get your product on the wall finished for your perfect launch.
Above traditional flourish gilding in the morning – Below: shear graphic branding in the afternoon.  Traditional signwriting is actually incredibly versatile: able to become very proper and very modern in a brushstroke.
         Nick Garrett, NGS
     scan this page

Please read our FAQ Below
———————————————————————
Here are answers to some of the more common questions asked – if you do not find the information you are seeking please do not hesitate to contact us and I will be happy to assist.
   scan this page
Q  How do we get started on a new sign writing order?
I will usually ask you for some photos of the job location, deadline and JPG of the design you require – I then create a visual and costings in 12-24hrs. If you need a design created I can do that along the lines of what you like, want, need. Just ask and I'll do my best!

 
Remember your name is important but you must say exactly what you do in order to gain success from your new sign concept.

What file type should I be sending for output/design?
JPG is the most common file type although almost any file type can be utilised such as jpeg, tiff, eps, pdf, ai, psd, dxf, dwg and many more.
Q  What size and resolution should my artwork be?
Artwork should be at least 72 dpi and a maximum of 300 dpi at full size if your artwork for instance is half size it should be twice the final desired output resolution.
Q  How long will I have to wait for my order?
We usually can turn round most of our clients requirements in a week or two dependant on the brief. If a tight deadline is required please contact us and we will endeavour to meet your requirements. Always state your expected delivery, collection or fitting date on your order.
What do I do if I am unsure of my requirements?
Talk to me.  I am always happy to help and advise on all aspects of your requirements. I can arrange a site survey. Remember always ask and I will always advise whether asked or not on the best visual solution and most cost effective your job requires.
Q  Is there a minimum order cost or a minimum quantity requirement?
In a word no, although a minimum call out of 80.00 does apply to small one-off works.
Q  Do I need to get a professional to create artwork or drawings?

 
Usually we will tweak your design to fit yr fascia or window dimensions.
We can produce your every design wish from either a sketch, vocal brief or existing artwork – on some complex projects we recommend several graphic designers who can also assist.  
As part of more intricate projects NGS can create pure graphic layouts, logos or 3D, autoCad, technical drawings either from scratch or amend existing artwork or ideas.
Q  Does NGS only operate in the UK?
NGS can work pretty much anywhere in the world. We use international carriers and have experienced crews to travel to any continent.
… any other questions just let me know. Nick Garrett NGS

  
.. 

great signs that sell
scribing dynamic commercial success for all our clients
.

Signs help your business grow…
Creating success for my clients is at the heart of what I do. Signs are often the most effective marketing tool. 
Recently a new client asked for a window art work that simply didn't promote his business product commercially enough (in my view – I was concerned) … we went ahead as he wanted and two weeks later I added his product list and he had an immediate reaction.
Why a real painted sign?  All media advertising started out as signwriting.  It is the orginator and proven over centuries. Real (beautifully handwritten) signwriting will convert enquiries in a direct way.
   -  attract new business from passing trade
   -  establish loyalty of existing proud client base
   -  inspire new creative products and new ideas
Classic, brand led signwriting connects with the client because it's alive and attractive… it's incredibly human and registers in the memory far better than cold, digitally produced lettering because of its warmth and resonant message.
---
Keep it simple, Keep it Real
Say: Who

you are, 

What

you do …

Where

you do it – say it clear
Stay ahead… by design
…ahead of the competition and grow your business with our beautifully produced signs. A great place to be and it starts with the first impression your client make of you, at your front door – so getting it absolutely right speaks volumes.
Why come to us when you need a signwriter?
NGS will create a smart corporate identity that will set you apart from the rest, and ensure you stay successful at the fore-front of your marketplace.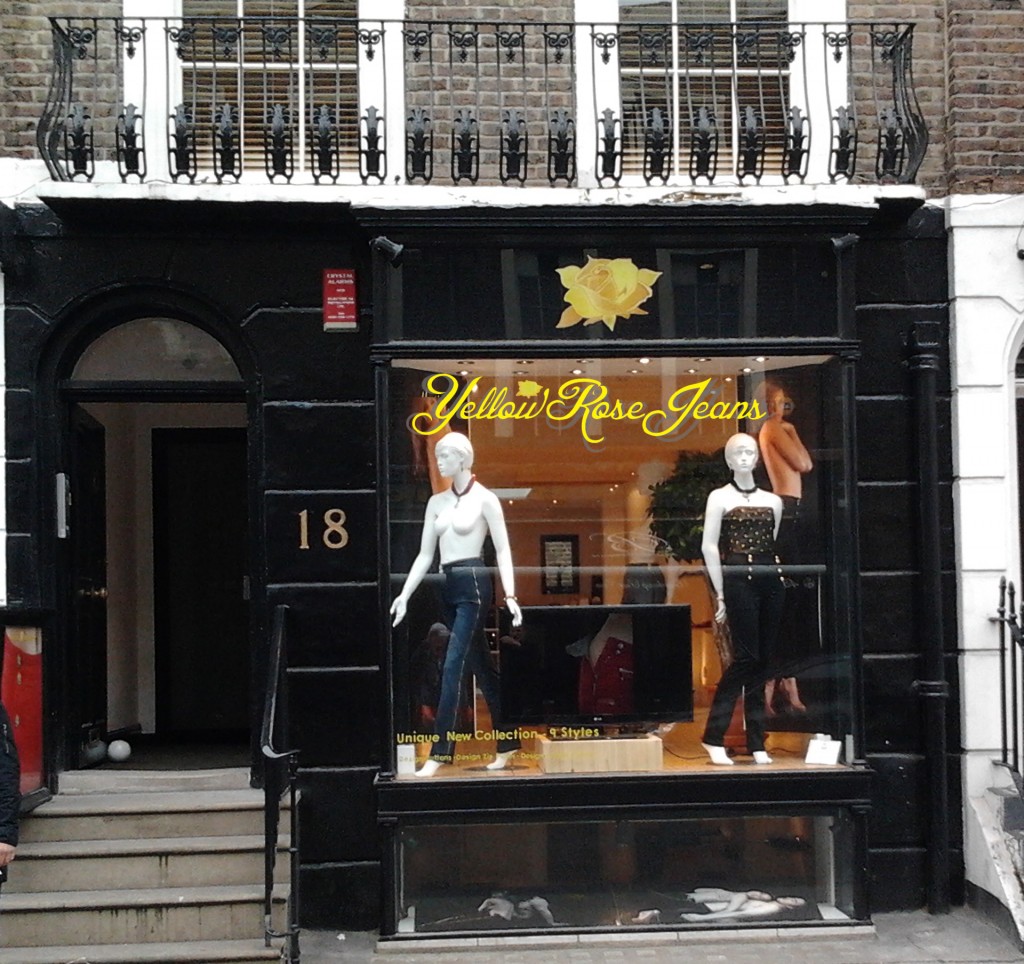 For all your sign enquiries talk to Nick or Pam on 07951509238

---
  Real signs
November 12, 2011
London Sign Writing: Ted Baker new store fit-out
.
NGS completed 11 in-store panels for Ted Baker's flagship store in Bluewater Kent. The brief was to bring hand painted feeling to the logos of several themed interior settings using layouts produced by the in-house design team.
.
The nostalgia "Tedbury" concept included various village shop sets with quaint writing – a tea shop, a butcher shop and a pharmacy staging… These interior wall and ceiling sets were literally designed as room spaces then 'de-constructed' or dissected, with walls displaced creating a broken visual constant: a shifting continual context around the store… heaps of mirrors assisted the whole shabaz, The mix of Goth typography and Victorian ornamentation made the writing fun and after we went over with a distress rub down and glaze, the panels really looked the part.
.
We are constantly being asked to create aged and retro surface finishes on shop signs and displays these days and it is becoming one of our specialities.
.
A few weeks later the 2 million pound makeover was complete and running.
.
Special thanks to all the team and shopfitters.
.
Article by Nick Garrett, NGS TheLondonsignwriter.com


The Apothecary signs in the new flagship Bluewater 'Tedbury' quirky themed store


…sign writing in Blue Water Kent the fab new Ted Baker store…
     







Big thanks to John Pope, Dave Uprichard of OPT (

http://www.otpstudio.com/

) for great layouts and TB fitters and VM designers for preparing the artwork.