Above an NGS sign design and layout right off my Photoshop pad
Hand painted glass sign mural in situ after a fair haul… special thanks to staff at the new Mansion House, Mini POD, Queen Victoria Street, and the super input from POD marketing and architect team.

9.30pm finish time for first 3 days… 

Above:  Diffused frost varnish and full colour fills
.
NGS Sign Project Video
.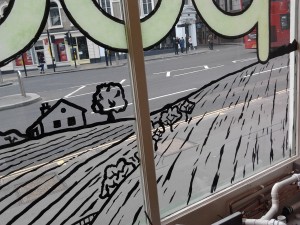 Lining in… early start-up 8.00 am Saturday

The frosting varnish is a super solution as it protects the artwork while allowing max light in: yet completely diffuses the interior view and activities from the outside world … chefs will be a subtle blur … yet discernible and energetically active in the avid City of London health foodzone.
The POD text logo was beefed up with an extra black drop shadow and the external window frames sharpened up with a fresh cut in.  Attention to these additional details is characteristic of the service I provide – at no extra charge I ensure the product looks absolutely at its best.
All done. The whole window just needs to dry out and cure… and the writer needs some sleep.
Nick
For more info visit our Mural page or drop me a line @

Contacts
I hope you like my pages.
Nick Garrett Traditional Signwriters  
Traditional Signwriters London, Murals, Gilding,  
Custom Typeface design, Brand design, logo creation