Oil Gilding Secrets
Traditional signwriter gilder Nick Garrett London – Edited and written by,
I found this article below and edited it adding some tips and trix.
Coming from a long family history of lettering cutting and gilding, going back 3 generations I am a task master of these skills – I love gilding! Once you work with gold, life takes on a different gleam!
Good gilding is all about being organised, relaxed and methodological – gold picks up on static and stress so my Tai Chi skills really pay off!  Relax and enjoy your gold…
Importantly it is also about using best materials and occasional improvising.  I recently watched a master Italian furniture gilder using a foam brush instead of a gilders tip with loose leaf and it worked superbly well. Have tried it and yes it's far more stable and easier than the classic gilders tip. The best gold is also far easier to handle than going for the best price… cheaper with carry static and feel brittle… adding time to the work and in the end falsifying your project economy.
Never cut corners with gold… your client must be made aware of it's special qualities or even helped choose another option. Hope you enjoy the read 🙂
NG
ARTICLE
Oil gilding is perhaps the easiest process of all gilds. In theory you can oil gild any object that you can paint, but it is especially fitting when wanting to gild a metal object. Also, if the object is to be outside in the elements, or is in a damp atmosphere, then oil gilding is the choice.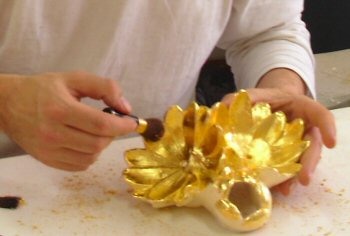 Here's how to oil gild a small metal object (a cast iron door stop). 
You will need the following equipment:
Gilders pad

Gilders tip (preferably squirrel hair or foam brush)

Gilders mop

Gilders knife

Artists fitch

4 hour gilders size (oil)

Vaseline

Book of gold leaf

Foam brush (tip)
STEP ONE
First, prepare the object in question by cleaning (even a sugasoap or vinegar wash) and a light sand with 320 wet dry paper. Although anything can be gilded, you will have to ensure that the object is in a sound condition.
Ensure finally that the surface is dusted off (using a tack cloth is good idea), clean, dry and free from grease.
You can gild directly onto bare metal and if possible, this is the best surface. It must be noted, that any bits, cracks or contaminants on the surface will show up through the gold, so good preparation is vital… unless you want to try for a historic mood of course.
STEP TWO
Once the object is ready, apply an

even,

single, medium weight coat of oil based 

gilder's size

 to the surface (keep the room well ventilated or wear a mask). For this exercise I have opted to you use a 4 hour clear size. The time means that after application, gold is applied up to four hours later – however it may be the size comes ready in as little as 30 minutes depending on humidity.
Tip:  Always do a test area to gauge timing and be aware as the day goes on generally drying times will shorten.  Apply a medium coat – not too much or too little.
The longer you can wait, the better the finish – although if it dries, you will be back to square one! I find about two and a half hours is sufficient. To test the tackiness of the size, use the hairs on the back of the finger. Ideally, the size should be at a point about 45 minutes before completely drying.  
Tip:  You can add yellow colour to the oil size for visability – it also helps hide minor pins and misses.  
Tip:  In hot weather a longer size is often required such as 6-12 hours.
STEP THREE
Starting in a corner, or appropriate area, lightly place the gold on the tip onto the size. The gold will stick to the size and leave the tip. At this point be careful not to let any of the hairs on the gilders tip touch the size. If you have some gold leaf residue staying on the tip, there may be a little too much vaseline – in which case rub the tip through your fingers to dissipate. If there are recesses on the object you are gilding, try to put the gold into these areas. However, in most cases, the gold will bridge these but can be filled in later. Transfer gold is also a good option for this type of project.

Clean up
Using a soft mop gently remove loose leaf and drift over the surface helping lift a little burnish or gleam.
Tip:
When cutting in on a painted edge , talc the background allowing easy clean- up.  Paint a nice 'edge'.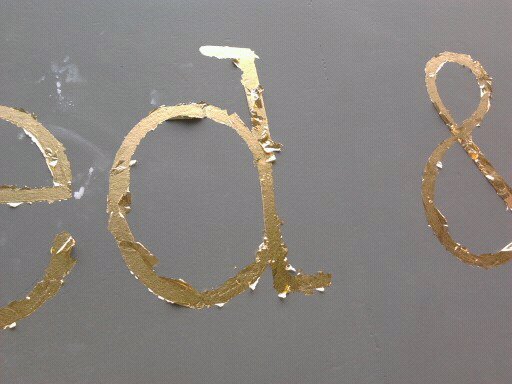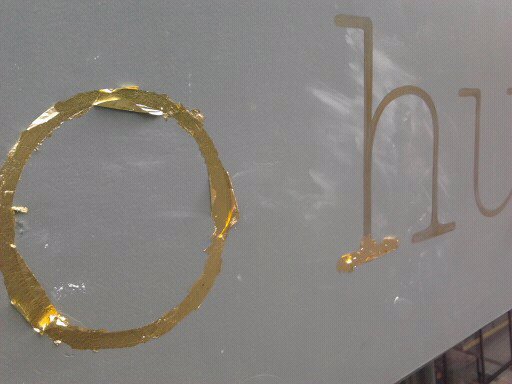 Gold Leaf on 251 Kings Road ready for cleaning and burnishing..
If you would like some more advice or a quote on Gilding and Restoration works, Contact Nick Garrett for further information.
Traditional Signwriters London, Murals, Gilding,  
Custom Typeface design, 
Brand design, logo creation
Thanks to watergild.com