Join us:  Strike a Beautiful Learning Curve! The perfect start to your writing practice..
NEXT Workshop:

 

July
Saturday and Sunday August 2-3rd !
Email us for details
The best day was had with 15 Smiffies arriving ready to go! We practiced casual, Romans, set up techs, demoed Calligraphic Romans, blocks, gilding, shaded drops and had our friend and incredible poet JJ drop by for some Wordsmithing of the highest order. Happy Birthday to Alice too!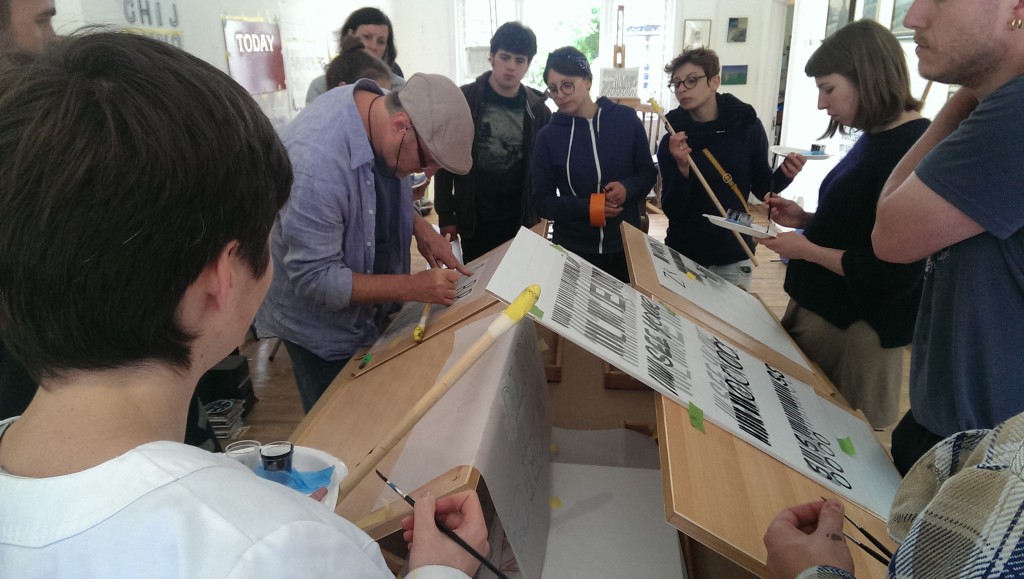 The first principle is to understand how to balance mechanics, heart (your personal driver), and production excellence and to experience progress via working on the day, with the best strategies for developing correct skills and technique. Precision is the first and last point of call in our lettering modules – it is a challenge in the early stages , but so it must be when learning such an extraordinary craft. But it is far more of a challenge continuing a career for years on the hard road without these carefully studied processes onboard as your saviour.  Without them you will be half the writer. Precision alongside preparation and design thinking allow errors in layout for example to be avoided.  The first important understanding of architectural elements, scale and visual tollerances must be emphasised so as to establish in the mind of the young start-up lettering artist, the foundation of good signage layout and execution, and when needed, tactical project analysis.   Signwriting is one of life's most tactical, complex artistic persuits. It is demanding physically, creatively and mentally.  I have no doubts that what you will hear and trial on your first day with the Signsmiths group, will last a lifetime in not only sign practice, but many other ways too.   Nick Garrett