Traditional freehand sign writing Nick Garrett.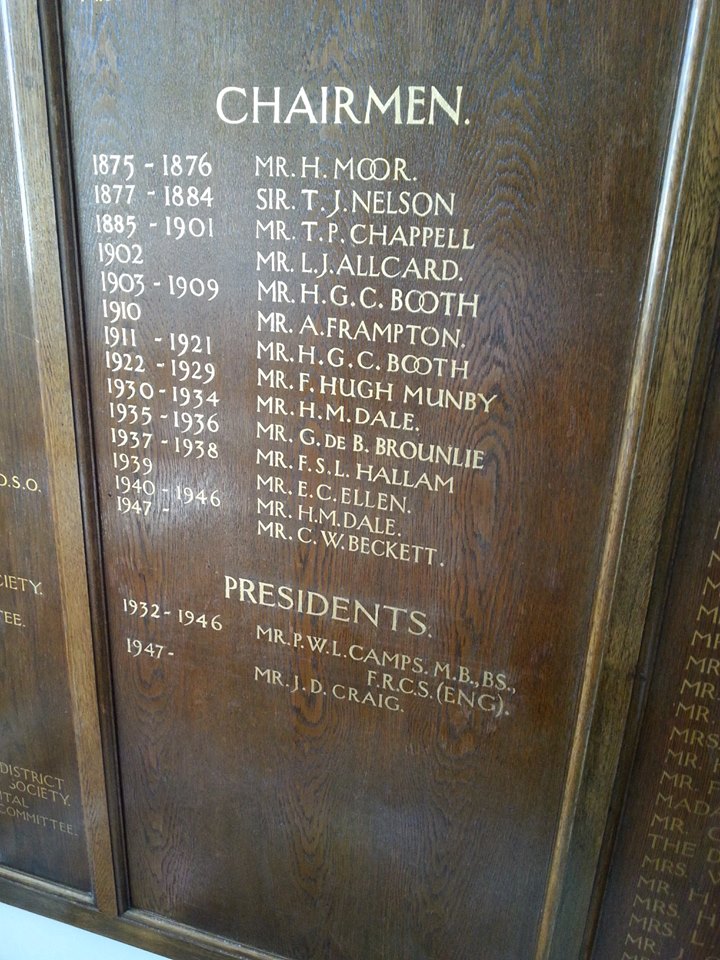 From client directive to take lettering from 2 smaller panels and insert into larger main panel in gold leaf.
Trace made and re aligned text.
Several superb hands had contributed to this panel over the past 60 years.
On site the condition of the oak panelling gave cause for concern as the grain had lifted and distorted with fine yet deep ripples.
The draw up followed the original main hand.
Gilding mix:  Lefranc 6 hour gold size adding yellow black and whit to create putty colour with plenty of guts or 'hold'.
Brush:  handover's 00 chisel.
Letter size 18mm Body 30mm Headings
Lettering the original 'Optima' writers Roman was difficult over the rippled surface.
Spacing
Allowing for 1 extra line after the last line of text.
Access Platform tower. Work height 2m
Threats
Surface.
In earshot of patients being treated.
Child being treated and in some distress caused me extreme anxiety.
Heat.
Working over weekend – fatigue.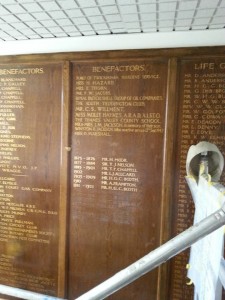 Above
Day 1 nearing an end… plenty to do yet
Summary
Day one: 8 lines were completed with main difficulty being the surface conditions.  I struck a margin chalk line left set and top bottom chalk lines with trace off letter set out for 75% of the layout. balance was flicked in with Chinagraph free hand.
After day 1 I had the measure of the font style/hand.
Snag was also that low tack frog still peeled shellac of the panel which meant drawings fell off and the surface require light restoration at clean up.
Clean up included Q tip wipe with brown wax and and fine wipe over with Shellac.
Retouch of scratched letters with artists gouache and gold leaf.
NG