Brushstrokes not Keystrokes – The Drum beating it for signwriting…
Brushstrokes not keystrokes: Why handpainted signage is making a popular return
An art form all but lost, hand painted signage is experiencing a resurgence as retailers place value in the human touch.
The first sign that the writing was on the wall for sign writing came in the 1980s when vinyl cutting first made an appearance and craft began to make way for computers.
The 90s proved even more disastrous, with inkjet printers and digital design putting everything from window stickers to building wraps mere keystrokes away.
Before long the Victorian facades of our city centres were buried beneath the incongruous backlit signage of big-box stores and fast-food chains – a saturation of plastic and vinyl that led to high street bleeding into indistinguishable high street.
Thankfully, then, it looks like we're finally getting bored with plastic, businesses no longer happy to just blend in with uninspired, identikit neighbours – much to the delight of traditional London sign writer Nick Garrett who dismisses modern signage as "offensive".
Instead, retailers are increasingly turning to sign painters to convey a sense of individuality, to stand out and communicate that their products aren't run of the mill.
---
Nick Garrett's hand painted signage for Smoked
---

---
For Garrett (Garrett? call me Nick!?), whose grandfather was a letter cutter (a stone mason who cut the letters on the statue of Boadicea on Westminster Bridge) and who himself has been involved in sign writing and gilding since 1975 as well as running workshops to pass these skills to new generations, the handpainted resurgence we are in the midst of can be traced back to the financial crisis of 2008.
"That really shook people. They, we, I… took a good look at what really matters. It got real.
"You can love something loved and crafted. But you can never love a vinyl letter and so it's seen for what it is, future rubbish. Painted letters on the other hand are future icons… nay, art.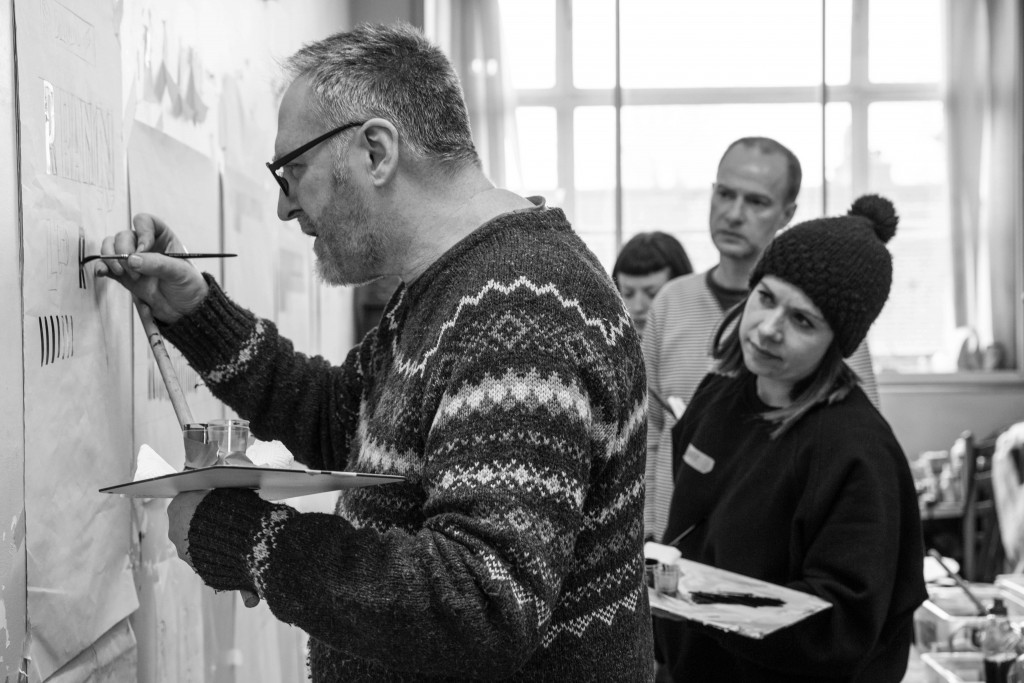 Nick teaching a new generation of signwriters aka NGS across UK
"Font designers by and large have never built a letter or run an orbit with a brush that loops and coils into a serif or a ligature. Running a brush around a gentle arch of Edward Johnston's letters or a more poetic cursive changes you, forever, because you could fail. You could slip, fall, lose something beautiful. It could die in your hands."
"In London in particular it's a highly competitive business," explains Garrett. "Forget all the new age community, when a job comes in most are aggressively pricing to win out."
Garrett encourages his students to go out and charge going rate – something some other older writers "spit the dummy at". For him though, price must be maintained for the craftsmanship industry.
"Undercutting is as big a threat to this revival as vinyl cutting was in the 80s."
This feature was first published in The Drum's 23 March issue.
---
Special thanks to Jack Hollands of Signwriting Jack, John Pope of Pope Signs, David Adrian Smith, Noel Weber, Better Letters, A.S. Handover, Brilliant Signs, Henderson Signs, Glyphics, Perry Signs, Insegne di pinto a mano Milano – Traditional Signwriting of London for their constant support.