Looking back a the flow of work since 1981 I can't help but realise that I am incredibly lucky in many ways.  Not least due to the inspiration of others… especially my grandfather.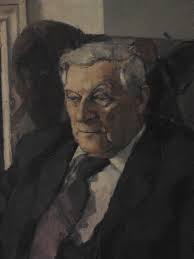 Portrait of my Grandfather – The Letter Master
Perhaps most importantly was the influence and encouragement I received from my grandfather, master stone mason, Francis Richard Baker.  This is a personal account of our relationship with regard to letters and art.
Grandad would come over to our place in Half Moon Lane, North Dulwich a few times a week, often arriving in his big old blue Commer work van.  I knew he was a stone mason at a very young age… it was important, important work cutting letters, often in memorial stones and even building traditional stone walls.
I watched him slicing the graceful grooves and applying yellow gilding size.
Above:  Norway House – Large Block lettering Francis Baker, of Fulham 
I must have been six or seven when I went with him one day to Putney Vale cemetery to help him clean some headstones.  After a couple of seconds rubbing the flat cleaning stone along the pitted marble face my arms began to sting…
I looked at my elbow thinking what's that wierd feeling? .. and quickly sat back on the grass… "Can't do that grandad … it hurts!"
"Come here… do it like this…" he said slightly gruffly.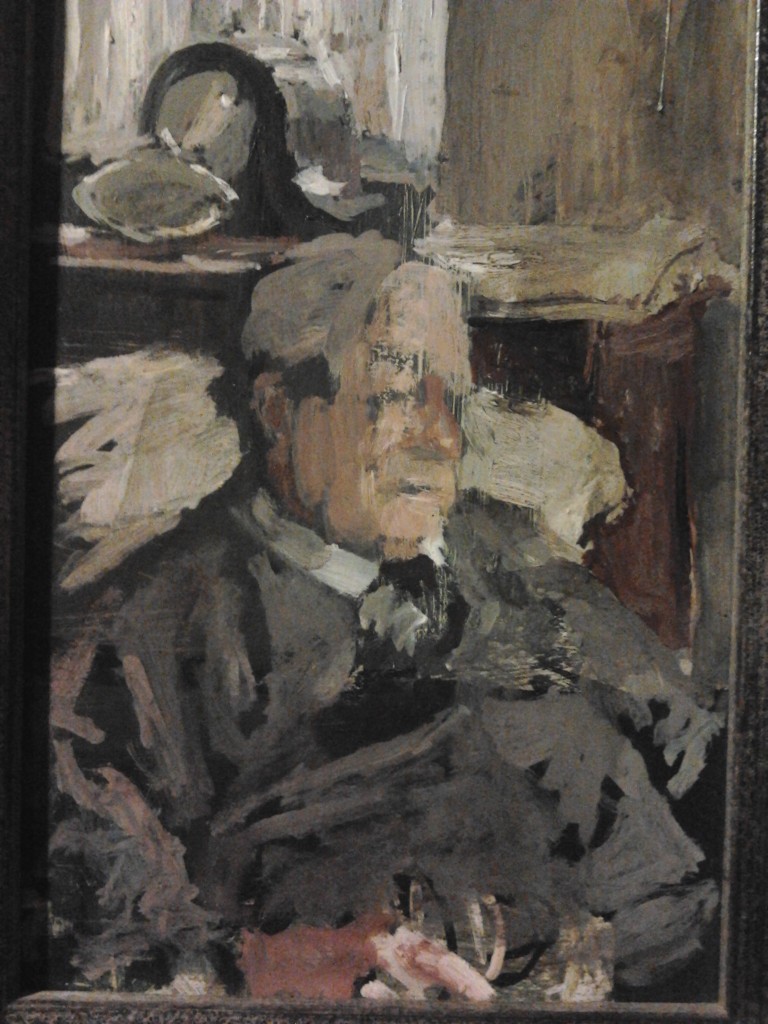 I watched him slide and skew the wet stone.
"Here.." He said gesturing the creamy rubber toward me.
"I can't do that grand dad it's too hard"
Back we headed to their home tucked away behind St. Mary's school in Gresham Rd.  Nana (Squibbs as he called her) was dishing up her usual wonderful fare: suet pudding and veggies followed up by apple pie and custard… the cloves were the perfect spice in the steaming hot yellow sweet custard.
Above:  Sculptor: Sir Hamo Thornycroft Lettering:  Francis Baker
It was years later that he came into the garden to have a look at my first attempt at signwriting.
At 16 I had my first job in Camberwell Antique market and soon collected my first commission, a tall narrow sign panel.
The black frame I had glossed quite nicely and the panel face in white…
"Ah that's nice… " he thumbed his chin.
"Hmm is it?… I'm not sure.." I replied with a bit of self conscious insecurity.
"The thicks and thins are a bit out but it looks quite good… Nick… not a problem really.."
Below: Nice classic Caslon style block lettering again F R Baker.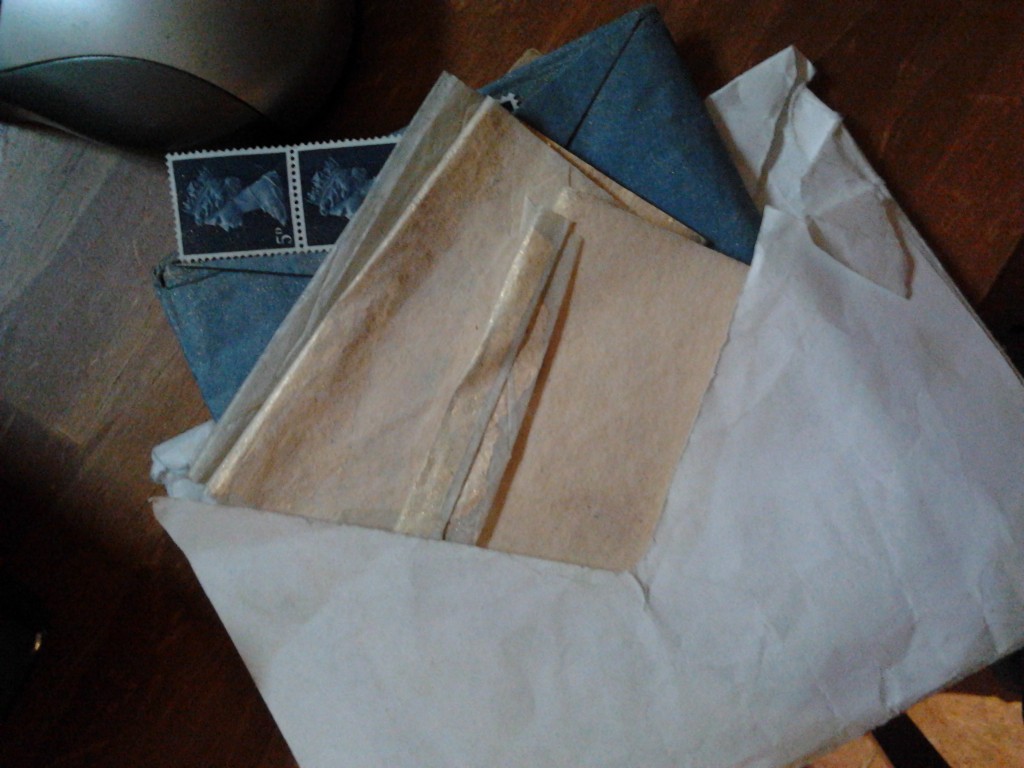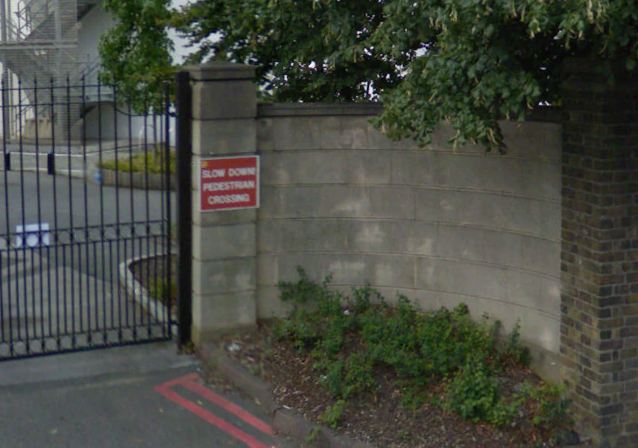 Above York Stone wall c1971 designed and built FR Baker ( Roehampton Lane London)
Portrait time 1977
He had nurtured me toward my application and acceptance into Camberwell school of Art Foundation year. He went to Camberwell and it was the reason I decided to follow.
During my first year grandad sat for me over a period of 10 portrait sittings.
It was a time of close countenance.  He talked, repeated stories of the First World War, Mermansk, the ocean, the letters.
"I was bloody scared alright… the sea… dangerous… but we had some laughs too… raiding the Ruski's stores at night!" He chuckled.
And about his work in progress..
"Bloody big letters those were … Norway House… was up there the other day didn't look too bad.. I remember the surveyor of Westminster came into my workshop said Frank I've got a big job for you.. 1500 letters into granite, doya want it Frank?  No I said… I don't want 1500 bloody letters!… not in granite… so he took off… turned out to be the unknown warrior's tomb" He chuckled .
"Bloody stupid I was!!… but it's hard stuff Nick that granite… too hard stone… keep you hands good… don't work in stone Nick… always look after your wrists and keep the back of your hands warm… remember it's in your hands Nick"  It was good advice and well heeded, in fact the last sentence has directed my life ever since – the belief that my future and that of my family is the fruition of my hands, and brush.
A Visit to my studio
It was some years later he came into my first sign studio for a look around…
"You did this gold?!  Nick!!"
I felt terrible, he was surely about to tell me my failings.
"It's the best gilding I have seen in my life!!  You did all this?? … oh my.. bloody marvellous!" I brewed up.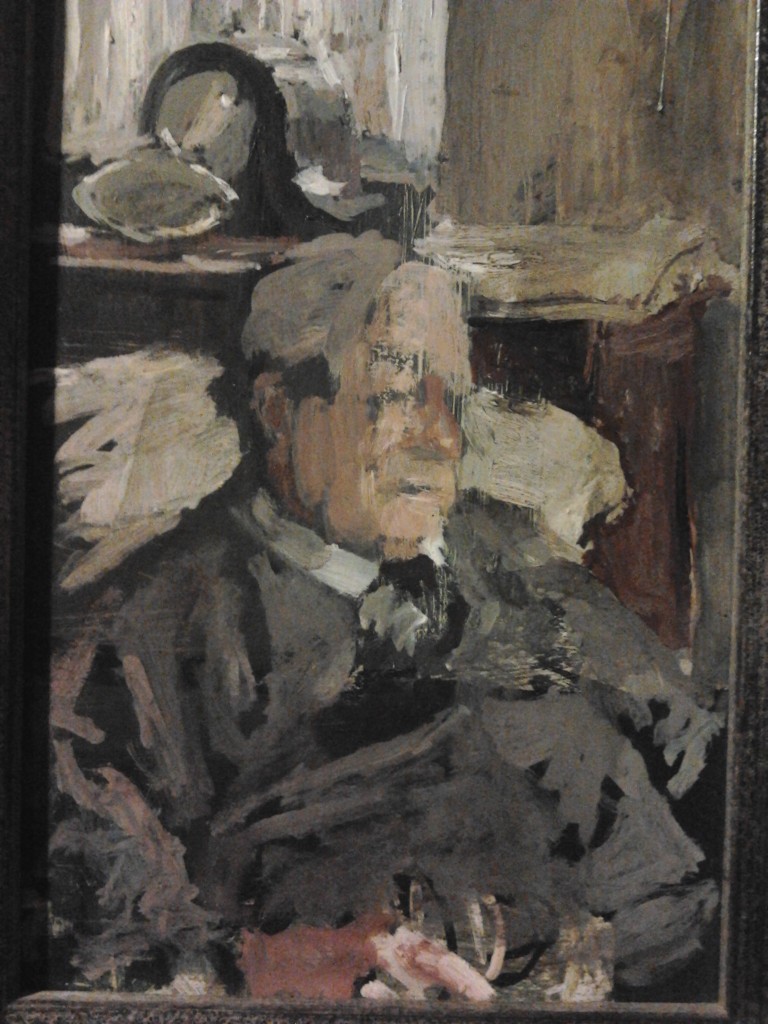 Portrait of my Grandfather 1987 oil on board
---
"You know Nick it's not so important the letters… my letters aren't all that good really… they're not bad… but my spacing is pretty good.  If your spacing is no good then… your finished"
"Lettering is pretty important grandad!" I smiled.
"Yep of course… s'pose your right… y'always bloody right!"  He chuckled slurping hot tea.
I have been very lucky.  My grandfather, his father and his grandfather all created great letters… carved in stone.
I still have his gold leaf in my kit and his guidance in my hands and heart.
Nick Garrett